FOR SALE
Quick GTR
Posted: Tuesday 8th April 2014
Category: Trikes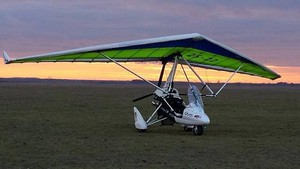 Description:

Quik GTR Explorer with engine 912 ULS 100 hp (approx. 40 hrs.) BRS parachute! Digital Hourmeter , Power Socket , Landing Light, Aveo E Series Strobe , Stone Catcher, Explorer Tundra Wheels, Explorer Front Wheel Brake , Training Bars
Information! This classified has been placed in the expired ads section due to old age.
More information:

Coolant Thermostat , Oil Stat, Low Drag Panniers Lynx Dual Headset Helmet ( Large and Medium) Powered Radio Interface Bar Mount PTT Icom A6 Radio Sport usual analogue instruments. Pod bag, Trike & prop covers, wing bag, baton bag etc.
Airplane time state
Quik GTR Explorer with engine 912 ULS 100 hp (approx. 40 hrs.) Manufactured December 2013 Exterior GTR Explorer with green and blue wing Avionics Lynx Dual Headset Helmet ( Large and Medium) Powered Radio Interface Bar Mount PTT Icom A6 Radio Sport usual analogue instruments. Digital Hourmeter , Power Socket Options Digital Hourmeter , Power Socket , Landing Light, Aveo E Series Strobe , Stone Catcher, Explorer Tundra Wheels, Explorer Front Wheel Brake , Training Bars, Coolant Thermostat , Oil Stat, Low Drag Panniers Remarks
United Kingdom
CAN BE DELIVERED ANYWHERE AT COST