FOR SALE
SKY ARROW 450 TS
Posted: Monday 17th July 2017
Category: Fixed wing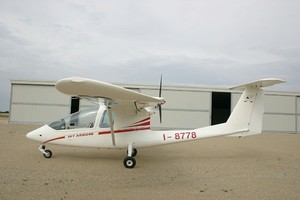 Description:

This two seater tandem Ultralight built bt the manufacturer, Aeronautica Magnaghi SpA, in 2016 is brand new. It has only 24 hrs on both the Rotax 912ULS 100 HP and the airframe.
Information! This classified has been placed in the expired ads section due to old age.
More information:

It is ideal for schooling even for the " less fortunate" thanks to a special kit that just needs to be bought and fitted. GPS, Intercom, Icom Radio, Transponder. ELT. Cruising speed: 90 KIAS, Stall 36 KIAS 0 flaps. Take off roll 87 meters.
+393482482975
mhaero360@gmail.com
Italy
68000 euros